Do you want to help in the recovery of the carved ivory horn?
You have 120 minutes to enter Petra with your team, solve all its misteries and locate the  precious relic, will you be able to?
We recommend teams of at least 3 expeditioners (only 2 recommended if you have a lot of experience)
If you have not parcipated in similar experiences before, we would recommend that this not be the first (contact us and we will tell you why).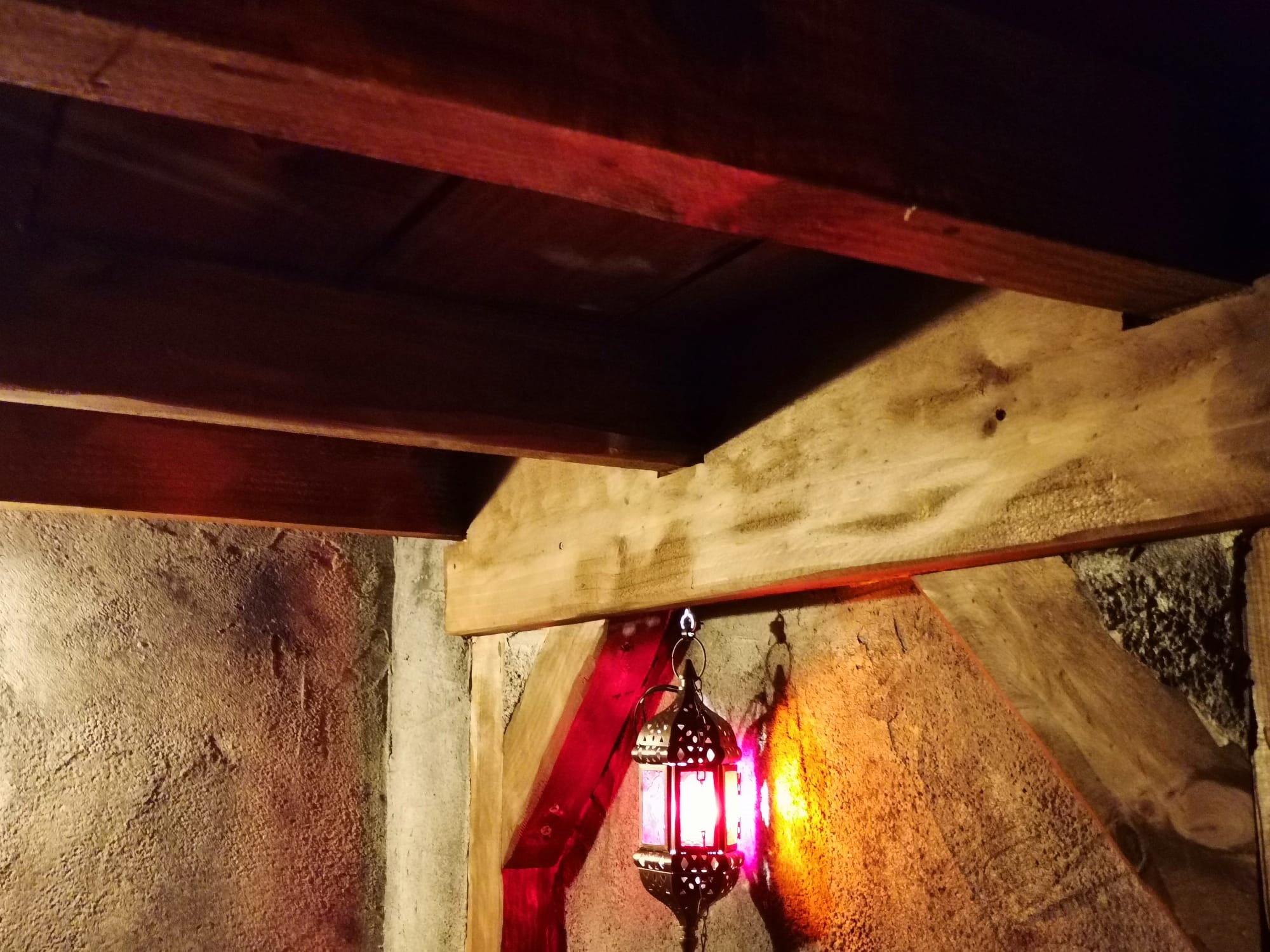 What are we going to find?
Petra, the lost Kingdom is a live escape game located in Bilbao.
This is a team activity, between 2 and 6 people. Upon arrival, your objective will be mentioned in-game and you will receive the rules and guidelines to follow.
To achieve the objective you have a time to apply observation, logic and teamwork to solve the different types of enigmas you will find.
Brute force will not serve you. Tools such as good communication, camaraderie and the desire to forget everything for a while and have a good time will be useful.
After long investigations in the city of Petra, my colleague, the renowned archaeologist Jean Louis Burckhardt, has found the whereabouts of the Treasure that the Bedouins hid centuries ago: the priceless carved ivory horn.
But… since she sent the last letter from him a few days ago, nothing has been heard from him again. The letter tells he was being followed and that he didn't trust anyone but me and that, if anything happened to him or communications were lost, I should send my team to follow in his footsteps and find the precious treasure.
That time has come, and I am about to embark on the journey that will take me to the Treasury and, hopefully, to my dear friend. I need you to start this journey. I wait for you!!!

From what age can you participate in the experience?
The minimum age to participate in the experience is 14 years. There must always be at least one adult in the group.
Only in the case of adults with a lot of high experience, access for children under 14 years of age will be allowed (please, contact us first to confirm it).
The reason why we set this minimum age is because we want the experience to be enjoyed to the maximum: some puzzles have a certain complexity and we have observed in groups with children under 14 years of age in the past some frustration or boredom by not progressing at the right pace.
Is it appropriate to be played if it is our first room?
Although it is a very logical room in which no prior knowledge is required, we do not recommend that this be your first experience.
We would recommend starting with a more classic room of shorter duration. In this way you will become familiar with the observation, logic and mechanisms of an escape room and you will later be able to enjoy 120 minutes of play with puzzles that will be less complex after other experiences.
In any case, the role of the GM is to help move forward when doubts arise, but it is more fun if his participation is less because the team can advance on its own, which will be easier with a little more experience.
Is it a dangerous activity?
It is not a dangerous activity.
As in any activity, attention must be paid at all times so as not to trip or hit yourself (nothing out of the ordinary).
In case of mobility difficulties or pregnancy, please contact us first. You can play the room without problem, but we would need to know to enable differentiated access.
In one of the rooms there is a laser beam. It does not present any type of danger if you do not stare at it, so we recommend taking extreme precautions in this regard, avoiding fixing your gaze on the beam of light and, above all, ensuring that no minor disobeys this advice.
The place from which the light beam comes out has been marked with a representative yellow sticker.
In any case, the supervisors of the activity (game masters) will be aware of it at all times, will give the appropriate warnings and will act to avoid any danger.
Is it scary?
No, it's an Adventure room and there will not be any scare moments or unexpected visits.
How many can we play at the same time in the "escape room" and how much does it cost?
You can go in a group of 2 to 6 people. One person alone could not solve certain puzzles; more than 6 people means that, with great probability, some of them would be standing at different moments of the game without enjoying the experience to the fullest.
Our recommendation is that the teams are 3-4 people. 2 persons are only recommended if you have a lot of experience.
The price varies depending on the number of people that make up the team. In the Booking section you can check the prices of team size.
How can you make a reservation?
You must access BOOK NOW, select the date and time, specify the game mode and the number of people that will make up your group, enter your data (name, surnames, email address where you will receive the reservation email, contact telephone number and observations).
We include a field of experience to get to know you a little better and know if you have done few, many or none of the rooms before. This will allow us to guide the clues to provide during the game.
The payment method can be in advance (through PayPal) or the day the experience is enjoyed (in cash, Bizum or PayPal).
Can I buy a gift voucher?
Yes. You just have to contact us by phone or WhatsApp and we will manage it. We will send you a gift voucher with a code that will allow people who receive it as a gift to enjoy the experience whenever they want.
Can people with claustrophobia play?
The escape room has manual opening measures («emergency buttons») that allow access to the outside at any time if someone needs it.
We believe that no one should have a problem and if, at any time, they need it, they would be offered an entry / exit alternative different from the rest of their colleagues.
Can pregnant people play?
We have had quite a few pregnant people playing in the room with different stages of pregnancy without any problems.
In those cases where someone indicates that they have difficulty bending over, passing through or simply need a break, we will provide alternatives so that they can enjoy the room in the same way as the rest of the players on the team.
As for the Tension mode, we leave it to the discretion of each team if they want there to be actors or not (in any case, we recommend that whenever there is a pregnant person, this is indicated in the comments section).
Can people with mobility difficulties play?
The room is not enabled to enjoy it with a wheelchair (it has some component that would prevent completing the experience).
If the mobility difficulty does not require a wheelchair, the experience can be enjoyed: in those cases in which entry / exit is complicated, we will provide a comfortable alternative for the person who needs it. Likewise, we will put at your disposal a chair so that you can rest when you need it.
We have had several people in the room in this situation and they have enjoyed it very much.
In what languages can the room be played?
The room can be played in Spanish and English.
What kind of clothes should we wear?
We recommend you to wear comfortable clothes that allow you to play more pleasantly.
You can leave suits, ties and heels for another day 😉
What do I do if I have a reservation but cannot attend? Do I have to be punctual?
First of all, what we ask of you is that, if a group cannot attend, you let us know as far in advance as possible.
Regarding punctuality, it is important: it is not necessary to arrive 15, 10 or 5 minutes in advance, but simply arrive at the time of the reservation (if you arrive too early, we may still be preparing the room and we will not be able to assist you).
If you arrive late, you must bear in mind that there may be more groups behind: we will try to ensure that you can enjoy the whole experience, but in no case will we make later groups have to wait, so it is highly recommended that there is no delay in your arrival (if you come by car, take into account the necessary parking time).
WHAT SHOULD NOT BE DONE
Mobile phones, video or photography devices, as well as the reproduction or dissemination of content, are prohibited. Mobile devices will be left next to clothing at the entrance.
It is forbidden to eat, drink or smoke during the session.
* You must come with comfortable clothes. Due to the moments of tension that can be generated with the game inside the room, the company is not responsible for possible damage to the users' clothing.
Petra, the Lost Kingdom reserves the right of admission in the event that one or more participants
You are intoxicated or under the influence of other substances
Cause damage knowingly
Have any bad behavior in the opinion of the worker who runs the room
Frequenty asked questions